Rainbow Children Medicare IPO GMP is in good listing profits. Rainbow Children's Healthcare Limited, based in Hyderabad, is India's biggest multi-speciality paediatric and obstetrics and gynaecology hospital network.
They provide infant and paediatric critical care, paediatric multi-speciality services, paediatric quaternary care, obstetrics and gynaecology, as well as ordinary and complicated obstetrics treatment, multidisciplinary foetal care, perinatal genetics, and reproductive care.
Rainbow Healthcare has a total of 1500 beds spread throughout 14 hospitals and three clinics in six cities. In 1999, the Rainbow Hospital opened the doors to its first paediatric speciality hospital.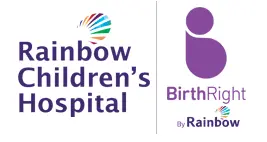 Rainbow Children's Medicare Limited uses a full-time physician framework to ensure that the majority of basic physicians are accessible 24 hours a day, seven days a week, which is especially crucial for baby's emergency, neonatal, and paediatric intensive care services. The company employed 608 full-time specialists and 1,686 part-time/visiting physicians as of October 30, 2021.
As of the period of this Draft red herring prospectus, five of their hospitals are NABH recognized, and three are EDGE accredited.
They believe that their ability to attract and retain high-quality medical experts has been crucial to their company's success.
Rainbow Medicare IPO details
RCML is launching its first IPO with a combination of a brand new equity issue price Of rs. 280 crore (approximately 5166045 shares) and an initial public offering of 24000900 equity shares of Rs.10 each to directly fund its requirements for initial redeeming of NCDs issued to CDCEML (Rs. 40.00 crores), Capital costs for starting up a hospital (Rs. 170 crores), and general corporate purposes.
The organisation has fixed a value range of Rs. 516.00 to Rs. 542.00, with the IPO's total size expected to be roughly Rs. 1580.85 crore at the highest budget price (approx. 29166945 shares) The subscription period for this issue begins on April 27, 2022, and ends on April 29, 2022.
The least number of shares for which an application must be submitted is 27, with multiples of that number available afterwards. Stock will be issued on the BSE and NSE after they have been allocated. The offering accounts for 28.74 per cent of the company's post-issue paid-up stock capital.
The firm has set aside 300,000 shares for eligible employees, with a concession of Rs. 20 per share being offered. It has set aside 50 per cent for QIBs, 15 per cent for HNIs, and 35 per cent for buyers from the remaining half.
RCML released additional equity in the value range of Rs. 20.00 to Rs. 438.01 throughout March 2011 and April 2022, after initially issuing at par. In June 2008, it granted 1 for 1 bonus shares, 3 for 1 bonus shares in January 2018, and 1 for 1 bonus shares in December 2021. The promoters/selling stakeholders paid NIL, Rs. 0.91, Rs. 7.32, Rs. 54.50, and Rs. 110.29 per share in average acquisition costs.
Rainbow Children Medicare IPO Today GMP
The public issue's price band has been set at Rs 516-542 per equity share. Rainbow Children's Medicare stock has begun dealing on the marketplace, as per market players. In the grey market, it is currently buying for Rs 52.
Objective
The net proceeds from the new issue will be used for capital expenditures, including the establishment of new hospitals and the purchase of medical equipment for those hospitals, as well as the full redemption of non-convertible debentures (NCDs) made by the company and general corporate purposes, according to the company.
Financial details
The company's total assets on 31 march 2019 were 9263.96 M and revenue was 5511.44 M
In 2020 the total assets of the company were 10193 M and the total revenue was 7298
In 2021 it saw an increase and its assets rose to 12398 and total revenue was 7741
IPO review of rainbow Medicare
RCML is a multi-speciality health services provider for children's Healthcare. It began to gain traction after covid and is now poised for significant expansion. It is mainly a South and North centric healthcare service provider.
The IPO appears to be fairly priced based on FY22 yearly earnings. Investors may think about investing for short-term or long-term gains.
Dividend scheme
In FY19, the company paid a 10% dividend, followed by a 30% payout in FY20, before skipping FY21 and announcing a 20% dividend in FY22. As a result, it is a dividend-paying corporation. Based on its financial status and overall prospects, it will maintain its conservative dividend policy following the IPO.
Rainbow Children's Healthcare Important dates
IPO opening date is 27 April 2022
IPO ending date is 29 April 2022
Basis of the allotment date is 05 May 2022
Initiations of refund date is 06 May 2022
The credit of stocks to Demat account is 09 May 2022
IPO listing date is 10 May 2022
Conclusion
The RCML's main focus is on the child care healthcare system, which is gaining traction. The issuance is valued at a P/E of about 43.5 based on its FY22 annualised earnings, making it a moderately priced offer. The corporation also pays out dividends. Investors may think about making a short-term to long-term investment.