We are sharing the best stock market books in India or we can say must-read books. The best way to ameliorate our investment skills is to read books. A novice is given one of the most powerful tools in the form of measures and initiatives that have been researched and proven for centuries.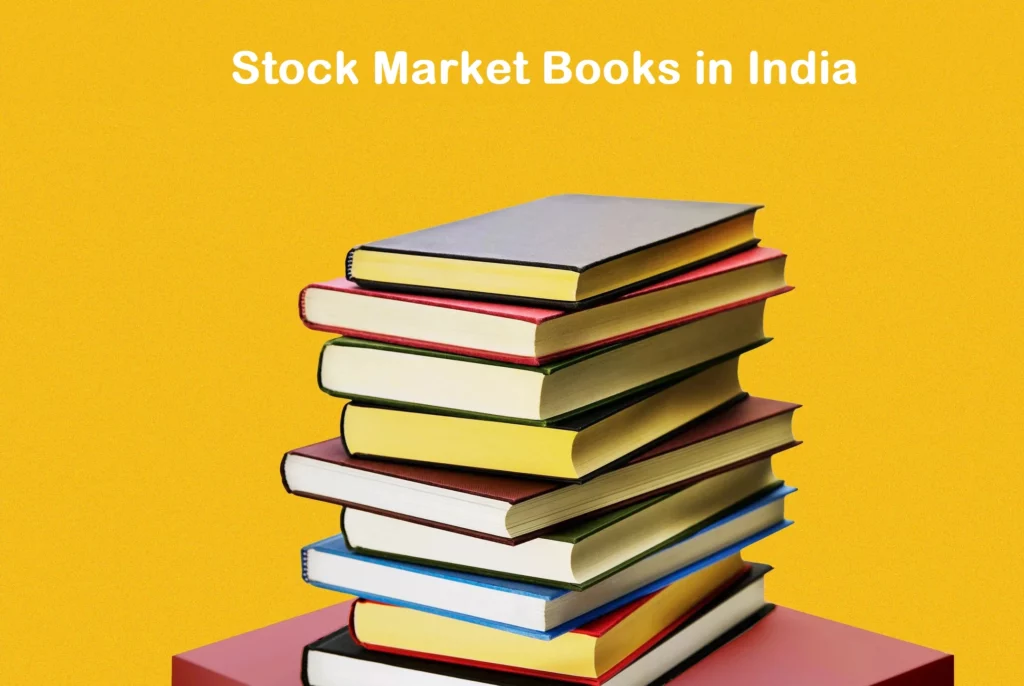 Because there are thousands of publications on the subject, choosing the correct books for inexperienced traders can be like locating a pin in the garden. Discovering books authored by great authors that are appropriate to our Indian share market can be even more complicated.
In this article, we are going to suggest to you some books by some intellectual authors based on the stock market.
Stock Market Books in India
1. Stock to riches – Parag Parikh
Parag Parikh was the founder and president of Mumbai-based financial advisory firm Parag Parikh Financial Advisory Services Limited (PPFAS). In 1996, he founded a PMS firm, which he eventually evolved into a mutual fund firm in 2003.
Stocks to Riches outlines the basic principles that must be grasped to succeed in the financial markets.
Investment, trading vs. speculating, loss of the sunk cost fallacy decision immobility, brain bookkeeping, and herd mentality are all topics covered.
In their investment career, every trader has encountered and will encounter similar circumstances. It helps to have all of these principles neatly organized and discussed in one book.
There are some key things you can learn from this book such as, If an investor does his homework, keeps up with current events, and is mentally robust, he can make great earnings from the market.
The chapter about loss aversion is very powerful. He discusses several examples and scenarios in which people from various experiences fall victim to the sunk cost fallacy. He then provides you with a handy assessment to see whether you fit into this classification, as well as advice on what to do in this condition.
Realize that your objective should be to maximize wealth, not to defend your purchase if your market crashes.
The part on "Mental Accounting" contains numerous instances that can be applied to one's own life. The key is to treat wealth as currency and not to associate the money's value with its origin.
2. The Intelligent Investor – Benjamin Graham
If you're seeking an excellent investment book to help you understand the stock market, advises you about hazards, and educate you on how to avoid troubles, "The Intelligent Investor" by "Benjamin Graham" is the book for you.
By far one of the greatest books on investing is "The Intelligent Investor," authored by one of the biggest investment counsellors of the 20th century, Benjamin Graham.
"The Intelligent Investor" is a must-read for all share market buyers and contains many helpful principles. Benjamin Graham teaches the basics of investing and how to stay at the top of the markets as an educated trader.
This book is easily readable and contains a wealth of financial knowledge. Furthermore, it serves as a guide to assist a novice investor in becoming a savvy investor.
The first part of the book is devoted to market principles overall. The rest of the book, on the other hand, discusses how to assess equities using comparisons, financial statements, money flow, and other tools.
It also includes chapters on management, stock returns, and case analysis, as well as sections on defensive and adventurous investing strategies.
The key lessons which you can learn from this book are:
Analyze assets for a lengthy period, safeguard oneself from setbacks, and don't go after huge returns.
Choose investments based on their intrinsic value rather than their reputation.
You'll be alright if you stick to a tight investment technique.
Have faith in your own experiences and research.
3. Beginner's Guide to the Stock Market – Matthew Kratter
The stock exchange is a complicated topic that only appears to be perplexing. The book explains what a share is and how to invest in stocks. It also discusses beginner blunders that should be safely ignored.
Matthew Kratterhas 20 years of market knowledge and has managed at significant financial firms.
He is the author of 16 volumes on the financial sector.
The book A beginner's guide to the stock market specifically revolves around three suggestions.
The first idea is what is the stock market? Before entering a playing field we should know everything about that game, its rules, and everything.
The same happens with the stock market you know must know about the stock market before investing in the stock market.
This book tells us that the stock market is an industry of shares. So if you are buying shares of a particular company means you are an owner of a little part of a company.
A company can issue many shares and the prices of the different companies if different.
For example, if the price of one share of reliance ind. If 1450 rs then the price of Infosys share will be 1155 rs.
The second thing this book wants us to learn is which company's stock we should buy.
While buying shares people used to make a blunder is that they buy shares with horrible profit to earning ratios.
The third idea is that this book informs about Dividend stocks. These shares make profits for you quarterly.
It's a fantastic way to get profit from businesses regularly. You can use the profits to acquire other dividend stocks. As an outcome, your cash flow improves.
In the end, I can only say it's an excellent book for newcomers who would like to master the financial markets and how to trade in them immediately. Everyone should read this book, in my opinion.
4.   The book Fundamental Analysis for investors – Raghu Palat
Fundamental analysis is a basic ability in a shareholder's portfolio for examining an industry's record of success, including revenue, income, payouts, assets, administration, and the business and economic prognosis.
It's a strong and smart value-based strategy to share the market that often pays off handsomely for long-term investors.
The book by Raghu Palat will help you master the foundations of fundamental analysis. All of the analytical techniques of economics, industrial, and profitability ratios, particularly proportions and money flow, are fully explained with pictures.
It teaches you how to assess a company's management and goods, as well as how to decipher what lies beneath the data and notes in an annual report. Also, as to how to calculate a stock's economic worth.
Overall this book is for those who know the basic concept of the share market and want a deep analysis this book is made for you. A must-read book if you are serious about the share market.
5. Bulls, Bears, and Other Beasts – Santosh Nair
Among the most fascinating novels in our collection are Bulls, Bears, and Other Beasts.
This is a fascinating book about share prices. It is not a whole account of India's money system; rather, it is the saga of Dalal Street, which begins in 1988 and encompasses a fascinating era in the marketplaces.
Santosh Nair also worked in The economic Times as an editor including some renowned financial organizations.
The book discusses the history of the Indian stock market after the 1991 liberalization in the novel. The chapter contains all of the events that happened during this timeframe, including tax evasion occurrences, fraud, surges, and collapses.
The book also explains the state of the country's economic finances and the impact of these events on shareholders. This is a must-read book for everyone interested in learning more about the Indian share market.
Finally, this book concentrates on the history of the Indian stock market, if you want to know about how the Indian stock market emerged as one of the most famous stock markets in the world. It tells us about the history of the Indian stock market reading this book is a roller coaster ride.
6.   Guide to the Indian stock market – Jitendra Gala
Jitendra Gala's Guide to the Indian Stock Market is still one of the greatest books for novice shareholders. It's even nicer because it instructs individuals on where and how to begin buying stocks.
Jitendra Gala has spent more than two decades promoting investing and trading knowledge. He's also the author of nine best-selling novels about the Indian stock market.
Gala also goes over the necessity of saving and investing, as well as the rights and wrongs, acronyms, and numerous investing concepts. This guide is appropriate for those who want to get their feet wet in the Indian stock market.
Final words
If you are an investor or a shareholder of any company and want to know the Stock market in the deep then this book which we have mentioned above is a panacea
For you. We have tried to cover all categories of books that you need to read for a better understanding of the shock market.
From history to happenings of the stock market we have tried to cover everything.
However, there are lots of other books but the books we have covered in this article are a must-read.